The political landscape in the U.S. has often resembled a boxing ring, with both sides throwing jabs and hoping for a knockout.
The most recent verbal skirmish between Nancy Pelosi and Donald Trump stands as a testament to the ever-intensifying rivalry between the two political heavyweights.
Former House Speaker Pelosi doesn't mince words. Recently, she went on record to state that the U.S. would be "doomed" if Trump, the former president, were to assume the Oval Office once again.
This isn't the first time Pelosi has voiced concerns over Trump's aspirations, but her language has become progressively sharper.
Tying his ambitions to the fate of the nation is certainly a new level of criticism. But then again, given the stakes at hand and the history between the two, perhaps it's not surprising.
Amid the legal chaos surrounding Trump, with three indictments now against him, Pelosi dubbed the latest one 'beautiful.'
This might seem like an unusual choice of words, but for Pelosi, it's an expression of legal artistry that she believes could finally hold Trump accountable.
While Pelosi presided over two impeachments against Trump as House Speaker, both times he was acquitted by the Senate, creating a frustration that is palpable in her recent statements.
She stated that these indictments, especially the latest, were "exquisite" and might stand a better chance of conviction than any previous efforts.
But why this increased tension now?
Trump's recent court appearance may offer a clue. Pelosi claimed that Trump looked like a "scared puppy" during his time in D.C. court. Whether this observation is an accurate portrayal or just another barb in their ongoing war of words is up for debate.
However, Trump, never one to be silent when criticized, retaliated by calling Pelosi the "Wicked Witch," foretelling a hellish fate for her. The imagery used by both sides paints a vivid picture of their disdain for one another.
While their feud might be entertaining for some, it's essential to note that these interactions come during a critical juncture in U.S. politics.
Trump's indictments range from hush money payments to a porn star, mishandling classified information, and the very serious charge of conspiring to overturn the 2020 election results.
With these looming over his head, the chance of him making another bid for the presidency in 2024 becomes a subject of much speculation.
It's not just about the legal troubles; it's about the very fabric of the nation's democratic values.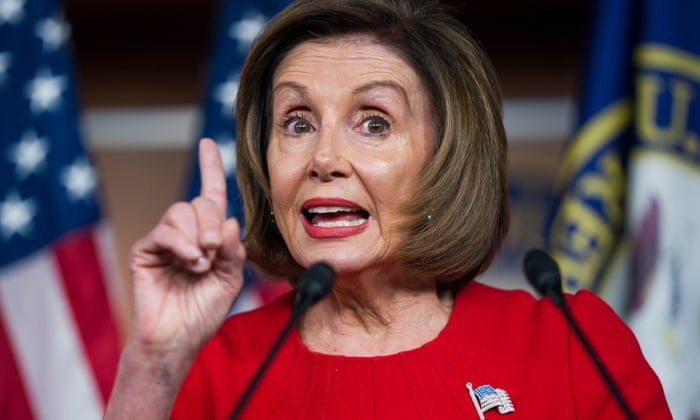 Pelosi, highlighting this concern, went on to say, "If he were to be president, it would be a criminal enterprise in the White House." This stark prediction underscores the gravity of the situation.
Amid all this, one cannot help but wonder where the line between personal animosities and genuine concern for the nation lies.
Trump's accusation that Pelosi took glee in commenting about him even when he chose to remain silent on a personal incident involving her husband indicates how deeply their feud runs.
Trump's choice to label Pelosi a "sick & demented psycho" only further inflames their public interactions.
As the U.S. grapples with myriad challenges, both domestic and international, the question remains: Is the ongoing Pelosi-Trump saga a mere distraction, or is it emblematic of deeper divisions within the American political sphere?
Only time will tell.
But for now, the nation watches, with bated breath, as two of its most prominent political figures continue their verbal duel.