Last week, the city of Wichita Falls, Texas celebrated animal control officer appreciation week. Each day they highlighted an officer and a dog that was eligible for adoption on their Facebook page.
On Wednesday, the shelter highlighted officer Zackry Majewski and a beautiful husky named Sky. The caption on the photo read almost like a personal want ad, saying of Majewski "He has a great compassion for the animals in our care. He is especially fond of huskies and can always be found snuggling with a puppy in the shelter. On his time off Zac enjoys hiking and listening to Country Music."
Comments came pouring in on the photo–over 13,000 to date–with most of them hilariously directed at the handsome officer instead of the pretty pup at his side.  One commenter said "Is Zac looking for a forever home too??" and another stating "Is Zachary available for foster? I've tried the whole "adoption" thing with guys but it seems like I'm made better for fostering them before they go off to their forever homes."
Majewski has his sights set on being a Texas game warden, and has been employed at the shelter since October, serving as both a kennel technician and an animal control officer.
Nikki Bacon serves as an administrator with the City of Wichita Falls Animal Services  and said that Majewski splits his time pretty evenly between his two responsibilities.
"For about five weeks, he's in the kennels helping to clean, feed, water and take the dogs out, play with them and care for the animals inside the shelter," Bacon said to the DODO. "And then for another five weeks, he's out in the community, patrolling for any stray animals and taking calls for any cruelty cases we may have gotten."
The intense attention the photos of Zac received resulted in Sky getting adopted right away. The popularity also came as a surprise to both the shelter and to Wajewski.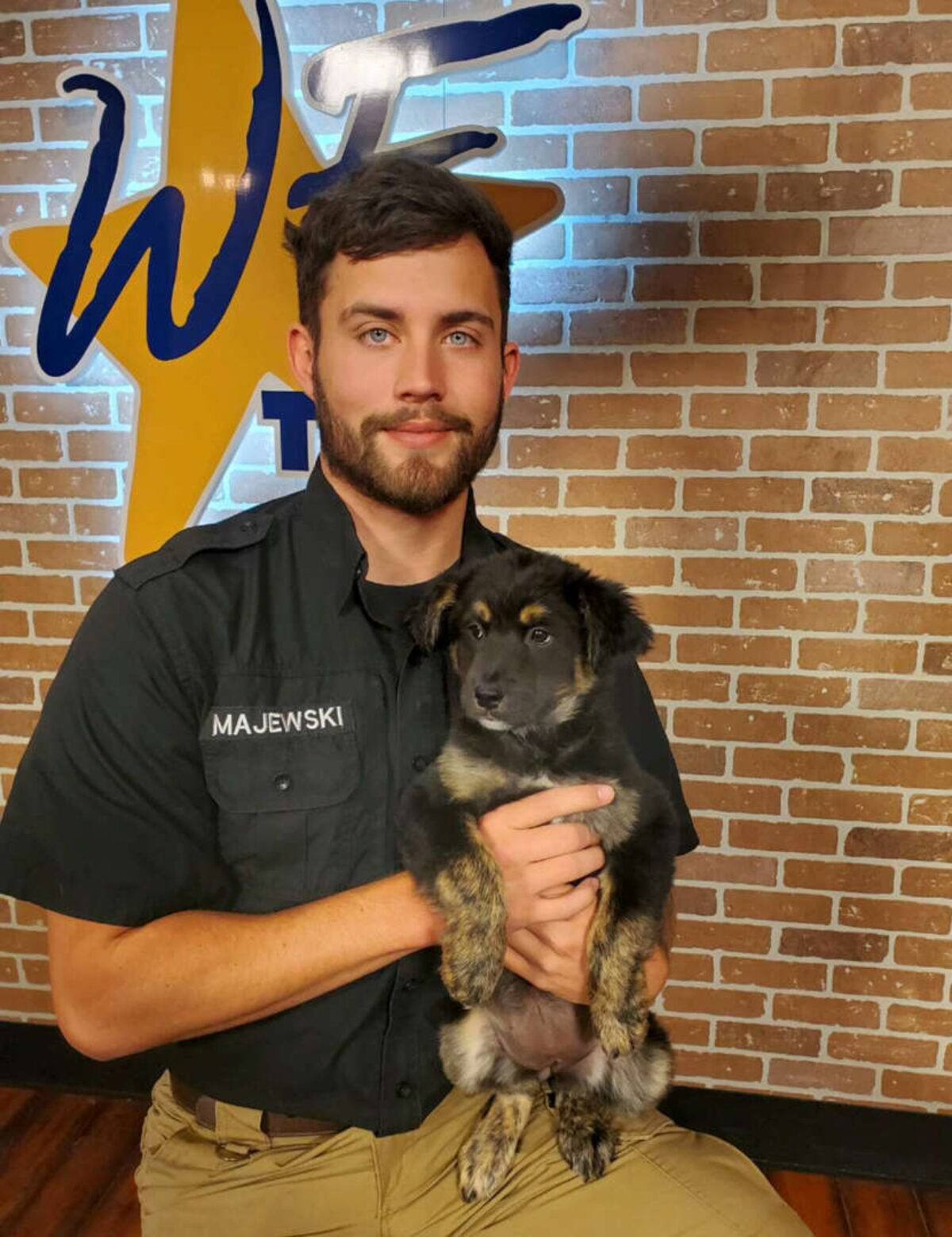 "Honestly, we did not expect it," Bacon said. "When I first saw the post in the morning, it had gotten around 500 comments, and I brought him into the office and said, 'I just wanted to let you know this is blowing up a little bit.' And the next thing I know, it's going into the thousands."
She said Wajewski was equally surprised, and has had a humble reaction, grateful that attention is being brought to the shelter and the animals in need.
To check out the animals available for adoption at the Wichita Falls shelter, visit their website here.