An observant and quick-thinking waitress in Florida is being credited with potentially saving a young boy's life after she picked up on signs that the boy was being abused. Flavaine Carvalho is a waitress at a Mrs. Potato restaurant in Orlando and was working her shift on New Year's Day when a family of four walked in to have dinner.
The two adults ordered food for everyone except for an 11-year-old boy, and when Carvalho commented on it, step father Timothy Wilson II said the boy would eat when he got home, according to local news station FOX 35. That's when the waitress noticed the bruises on the boy.
"I could see he had a big scratch between his eyebrows," Carvalho said in a press conference, according to FOX 35. "Couple of minutes later, I saw a bruise on the side of his eye. So I felt there was something really wrong."
Worried, Carvalho quickly thought of a way to covertly communicate with the boy to see if he was in danger. The waitress wrote the words "Do you need help? OK" in big letters in a piece of paper. She then stood behind his parents where they couldn't see, and held up the sign for the boy to read. When he nodded "yes" in response, Flavaina immediately called 911 for assistance.
On Thursday, the emergency call was released where you can hear the conversation between Carvalho and the 911 dispatcher:
"I'm super concerned and I don't know what to do, can you give me some advice? The boy is with bruises and he's not eating. The others are eating."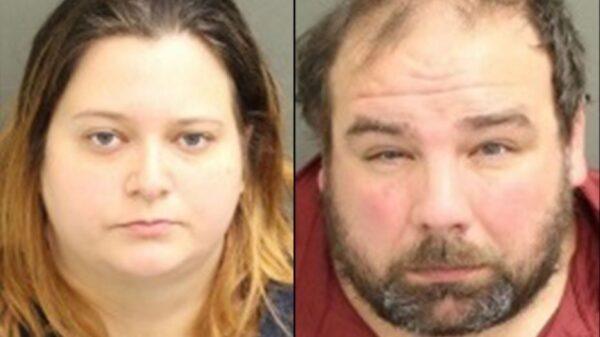 The police stepped in and ended up arresting Wilson and the boy's mother, Kristen Swann. Wilson was charged with three counts of aggravated child abuse and neglect. Swann was charged with two counts of child neglect. In a press conference, detectives involved with the arrests described the boy's treatment as 'torture' and shared the following details:
"He said ratchet straps were tied around his ankles and neck, and he was hung upside down from a door.  He said he was hit with a wooden broom, and handcuffed and tied to a large moving dolly.  He also said he didn't get to eat on a regular basis as punishment."
Additionally, it was noted that the boy was at least 20 pounds under weight and that he would be forced to do planks for 30 minutes at time, suffering a beating if he failed. The boy has a 4-year-old sister and both children were removed from the home. They are currently in the care of the Florida Department of Children and Families.
During Thursday's news conference, Special Victims Unit Detective Erin Lawler emotionally said:
"If Ms. Carvalho would not have said something when she saw it, that little boy would probably not be with us, much longer."
A trust account has been set up for the two children, and anyone who would like to donate to their future can do so at the address below:
COLE, SCOTT & KISSANE, P.A. Trust Account
c/o The Northern Trust Company
600 Brickell Avenue, Suite 2400
Miami, Florida  33131
Attn:   Michael Villasana