Man Who Was Living On $200 A Month Sells 'Worthless' Blanket For $1.5 Million
When Loren Krytzer walked into the California auction room, he was an unemployed man who was living on disability checks.
When he walked out minutes later, he was a millionaire.
"Everybody loves a rags to riches story," he said with a laugh.
Loren's life changed forever when he found out that a forgotten old family heirloom, a Navajo blanket from the 1800s which had been sitting in his closet for seven years, was actually worth $1.5 million.
This realization could not have come at a better time, as he was barely surviving living in a shack on the edge of California's Leona Valley, and had lost a leg after a near-fatal car accident.
Loren said that the sale of the blanket "gave me a new lease on life. It truly did."
Loren had inherited the blanket after his grandmother's death because nobody else in his family knew how valuable it was either.
Loren had a thriving career as a freelance carpenter until the car accident cost him his leg. Afterwards, he was left with just enough money in disability to move into a friend's shack in Leona Valley.
"It was rough," he said. "I mean, we would literally go to Costco … and get a Costco hot dog and a Coke cause they were $1.50."
Everything changed for Loren when he saw an episode of "Antiques Roadshow" in which an elderly man is shocked to learn that his First Phase Navajo blanket is actually worth around $500,000.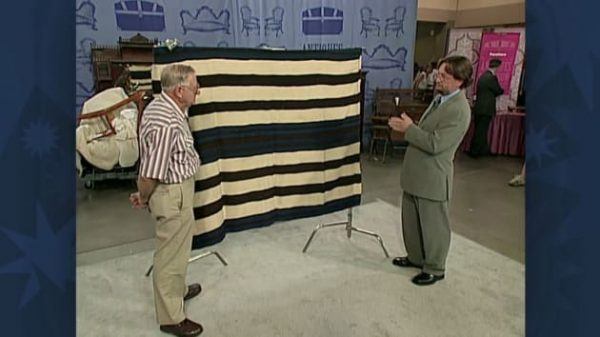 "I paused it and I went and got the blanket and I'm sitting there holding it. … I'm lining up the lines on the TV with the blanket, seeing if they match," Loren said.
"They were nearly identical. This guy is on TV, the appraiser says $300,000 to $500,000. I'm thinking maybe this one is worth $5 to $10 grand."
When Loren sent the blanket in for testing, he was stunned to learn that it was one of the finest and rarest Navajo chief's blankets in the world.
"This has only happened maybe three or four times with an unknown blanket where you see something and you know right away," said appraiser Joshua Baer.
"You walk into the room [and] you can tell that you're looking at something that is not just uncommonly beautiful, but that is still very much part of the time in which it was made."
Even knowing this, Loren was stunned at the auction when the blanket sold for $1.5 million.
"They had to bring over water and stuff to me and wipe sweat off my head," he recalled.
"I started hyperventilating because I couldn't believe it. … Everything just went limp and I couldn't catch my breath."
Loren used the money he received to invest in stocks and some municipal bonds and buy two houses.
"It's like, I never had money before, but OK, what do rich people have? When they have this money, what do they do?" Loren said.
Find out more about this incredible story in the video below.