Boy Tries To Sell Teddy Bear For Food – Police Officer Steps Up To Help Him Out
In modern America, no child should go hungry, but a new story is going viral that shows that this unfortunately still happens.
A 7 year-old boy was recently standing outside a CVS in Franklin, Ohio holding a patchy teddy bear that he was trying to sell to any customer who walked in.
Finally, one customer called the police, and Officer Steve Dunham showed up on the scene.
After asking the child why he was trying to sell his bear, the boy told Dunham that he hadn't eaten in days and was desperate for some food money.
Saddened by this, Dunham said that he would help the boy, and he promised him that he would not go hungry anymore.
Dunham brought the boy into his squad car, and as they drove around, he asked him where his parents were. When the boy told him, Dunham had other officers go to their home to see what was going on.
When the officers got to the home, they were disturbed by what they saw. Even the most experienced cops had not seen anything like it.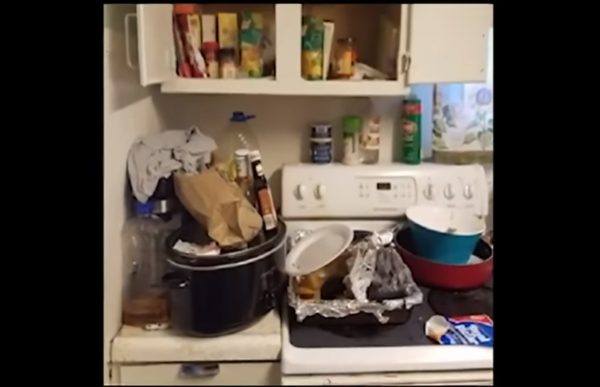 Every room of the house was filthy, with garbage strewn everywhere and roaches in every corner.
Four other hungry children were in the home as well, and the whole place smelled like cat urine. The fridge was also full of rotting food.
The parents of the children, who were identified as Michael and Tammi Bethel, were in the home too.
Police immediately arrested them and charged them with child endangerment.
All of the children, including the one with Dunham, ended up being taken in by relatives.
Despite all of the evidence against her, Tammi denied that she had actually endangered her children.
A judge, however, was not buying it, and both she and her husband were sentenced to six months in jail.

Many have praised Dunham and his fellow officers for how they handled the situation.
"They treated him like their own kids. And that's exactly what law enforcement does in situations like this. It's how we would want someone to treat our kids," said Chief Russ Whitman.
Find out more in the video below.