Expecting parents are always rightfully worried that something might go wrong with the birth of their new child, will they be born premature, or somehow unable to have a fair shake at life? A "premature" baby is when a child is born before the 37 week mark, these children are usually born severely underweight, and looking particularly fragile – they often have to stay at the hospital for some length of time. Nothing is so reassuring to the heart as to see these fragile newborns smile, when we know everything is going to be alright with them!
For those out there worrying about this eventuality, know that quite a few of these babies grow up to be quite healthy adults. We've gathered together some photos of smiling premature babies, and photos of them later in life, they look quite happy to us!
Natasha Band: My little lady at 2 days old and 3lb 7oz. And now, 16 weeks old.
Jill Chambers Goodwin: Your little girl is so precious! This is my favorite picture I loved to look at during our NICU stay. kennedy was born at 31 weeks. She weighed 3lb 2oz.
Carla Blain: Evelyn , my daughter was born at 25 weeks and 1.8lbs , we had the most traumatic 6months in hospital where I watched her die several times , and each time she would be bagged to bring her back… More tears than there is water in the ocean… More strength than I knew I could ever draw upon. Look at her now ! I burst to a million pieces each time I look at her! X
Love What Matters:"Our first daughter at five days old. 3 lbs. 14 oz., she was happy to be alive! This picture was one I looked at often to get me through the ups and downs of our NICU days. Life is so precious."
Ashlee Rachelle: They were born at 26 weeks, weighing only one pound and eleven ounces… Spent nearly 80 days in the nicu…Today is their 5th birthday.
Audrey-Lindy Cheatham: My lil granddaughter….2lbs 12oz and she is the happiest little lady!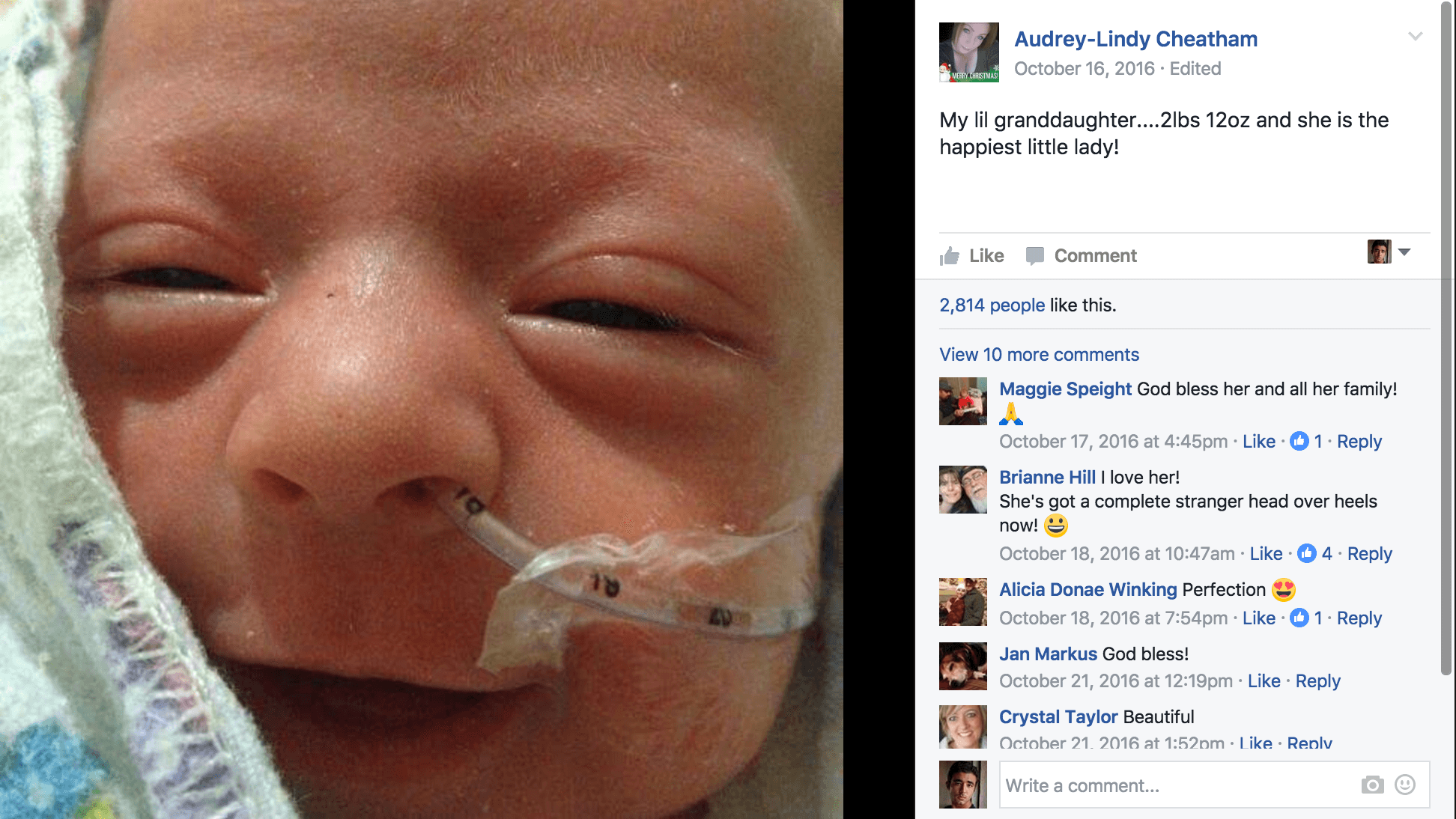 Kate Hoffman: My sweet boy was born at 34 weeks and weighed 5lb 4oz. After 2 weeks in the NICU he is home and growing more every day! Those smiles are the best